At least 20 people, most of them rebel fighters, have been killed and dozens injured in a bombing near Syria's border with Turkey, activists say.
The attack reportedly occurred during a change of guard at the rebel-controlled Atmeh crossing, in Idlib province.
It was not immediately clear whether the blast was caused by a suicide bomber or a remote-controlled device.
A news agency linked to so-called Islamic State (IS) said a suicide car bombing had targeted a rebel convoy.
But a local journalist told Sky News Arabia it was likely that a bag filled with explosives had been planted at the scene because cars had not been allowed to enter the area before the blast.
Why town of Dabiq matters to IS
Turkey v Syria's Kurds v IS
IS and the crisis in Iraq and Syria in maps
Islamic State: The full story
Photographs and videos purportedly of the aftermath of the attack showed the bloodied bodies of more than 20 men, some of them wearing camouflage trousers.
Rebel fighters have been targeted by the jihadist group at the Atmeh crossing before. In mid-August, 32 were killed in a suicide attack claimed by IS.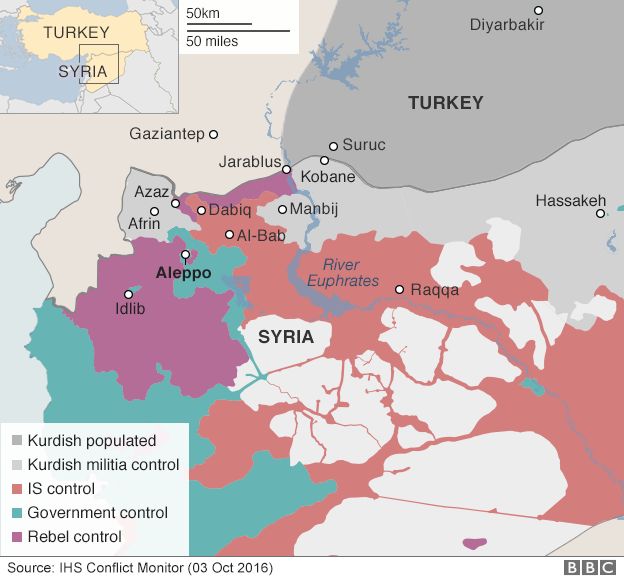 A witness told Reuters news agency that the head of the top civil judicial body in the rebel-held east of the nearby city of Aleppo, Sheikh Khaled al-Sayyed, and a judge who worked for him were among those killed on Thursday.
But most of the victims were members of the rebel Faylaq al-Sham group, the witnesses said.
It is participating in a Turkish-backed offensive against IS militants and Kurdish fighters along another stretch of border, about 60km (37 miles) to the north-east.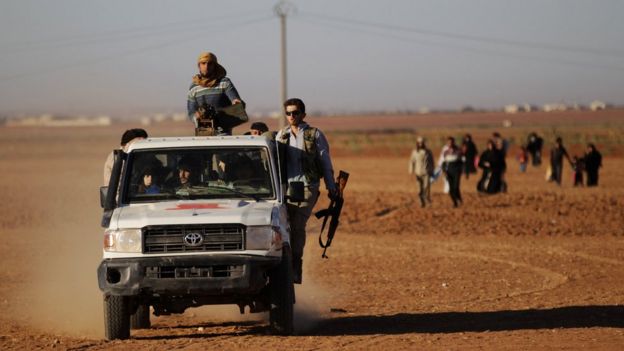 The rebels – assisted by Turkish warplanes, tanks and special forces personnel – are approaching the outskirts of the IS stronghold of Dabiq, just over a month after sweeping into the town of Jarablus.
Dabiq holds great symbolic value to jihadists as it is named in Islamic apocalyptic prophecies as the site of an end-of-times showdown between Muslims and their "Roman" enemies – a term IS has expanded to include the US and its allies.