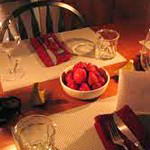 By Janet Adetu
We all love the opportunity to dine out whether it is in a restaurant or at an event. It is so much fun eating in the right ambience, with the right people, in the right mood, this sets the tone for a great time out. There is always the opportunity to wine, dine and socialize given the numerous social events going on around us. This is the time where you will likely indulge yourself in eating all sorts of assorted dishes to playing it safe and eating only you are familiar with.
Continue reading My fork or my hand? at Vanguard Nigeria.
Bookmark this website for top news and entertainment gists.